You either hate it or love it.
The first collection of Jeremy Scott for Moschino, a
collection of

pop

, fun

elements

marks the

debut

of a famous

fashion designer

in the Italian

brand.
 T
he collection

for the season

Autumn

/

Winter

2014-15

,

which

was presented

just days

ago

at Fashion Week

in Milan

,

is already

in stores.

It is an

mini

collection that

includes 10

pieces, which

refer to

McDonalds.

Bags

,

backpacks

and

sweatshirts

in red

,

that you see

as

the

packaging

of the known

chain restaurants

and

cases

for smartphones

in the shape of

box

for

fries

.

Jeremy Scott

will

either

hate

him

or

love him

,

since the

eccentric

creations

always

cause

confusion

in fashion

. I am not a bih fun of this collecton as a can easily characterizise as kitch and kind of ugly. I don't understand what kind of purpose is served here. Moschino was always quirky, and bright, and bold and some may even say obnoxious at times but it always had the Italian finese.. Classy Italian woman in well tailored clothes who doesn't give a damn that her pattern is blinding you.. what was totally missing form the collection. Not in a good way surely..

Celebrities seems to love this new trend and apparently not only them. The whole collection is sold out in stores. So don't surprise you in you see someone in the street dressed with the big M in the significant red colour or someone holding a fries package box as a bag next to you in line..
The red and yellow colored pieces, with the iconic McDonald's logo were instantly EVERYWHERE.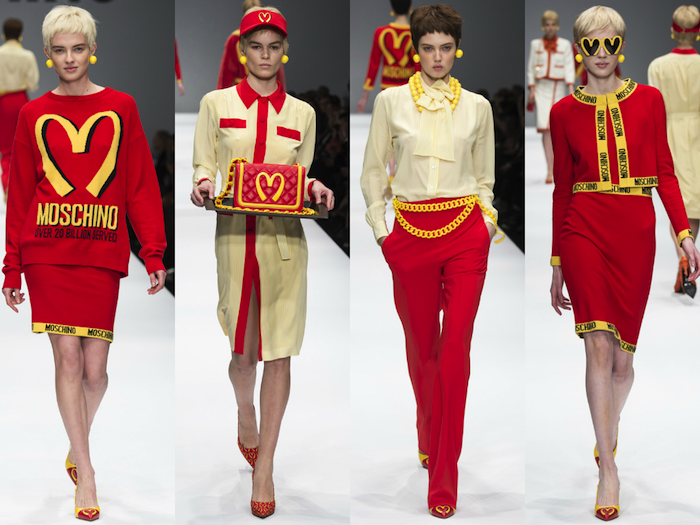 Jeremy Scott told reporters in Milano that it's "about taking something trashy and making something that you'll treasure forever." Perphaps he forgot that we have reality shows for that.  He tried to be ironic and fashionable, but he failed. That collection just looks cheap and tacky.
The capsule collection is already available online on the MOSCHINO website and it is almost sold out. It will also be available soon on net-à-porter.